Main Menu
NEW TICKETING SYSTEM FOR KANOPY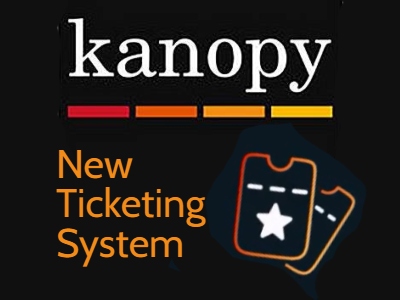 Kanopy is making some important changes to their play credit system on November 1, 2023.
What is changing?
Instead of play credits,( 1 credit per play) users will have a monthly ticket allotment.
Every title will be labeled with the number of tickets required for viewing.
Some titles require only 1 ticket, some as many as 5 tickets.
Every title will indicate the viewing window (days allowed to watch the title).
Boulder patrons will now have 15 tickets per month.
Why is Kanopy changing this system?
Better represents your library's cost and the value of the Kanopy content.
Easier to know how many tickets you have.
Clearer information on viewing period.
How are content types ticketed?
Regular PPU (Play Per Use): 2 tickets
Films from Major Studio:4 tickets
Shorts (running time of 30 min or less): 1 ticket
Bingeable episodic content (including The Great Courses): Pricing, tickets, and viewing period variable based on total running time.
Standard Episodic Pricing (Please note that future pricing is subject to change)
Getting Started with Kanopy
Getting Started with hoopla
Videos
Documentaries, Movies, Great Courses & Indie Films
• Streaming; Create Playlists
• 2-Day Check-Out
• Kids mode with parental controls and Common Sense Media reviews built in
• 5 Check-Outs per month
• Movies, Documentaries, & TV Shows
• Streaming; Downloadable to Mobiles
• 3-Day Check-Out
• Limit: 4 items per month
• Boulder County patrons only

"I get a message saying "Our daily limit has been reached. Please continue to browse, add to favorites, and come back tomorrow.".…what does that mean?"
The library has placed daily and monthly spending caps on the hoopla system to moderate spending our allocated funds. Once the daily cap has been reached no patrons may check anything else out for the day. This does not mean you've lost your 4 checkouts for the month. It only means you have to wait until the daily limit is reset. This occurs at midnight MST. If some patrons use all 4 of their checkouts at once, we reach our daily spending limit rather quickly. However, after 4 checkouts they are done, and this will give other patrons a chance to get material. Limits are in place as an effort to give everyone equal access as best we can.